Regular price
Sale price
£8.99 GBP
Unit price
per
Sale
Sold out
Are you tired of the aches, pains, bloating, tiredness  and more that your period brings each month?
Did you know that by nourishing and balancing your hormones and womb, you can prevent and reverse even the worst PMS?
Are you ready to take back control of your life by loving your womb in just 30 days?
Then you need my book

30 Days To Better Periods & Womb Health Naturally 


 After healing myself from a menstrual condition as a teenager and helping many women do the same since then, now I bring to you this simple guide to help you use foods, herbs, aromatherapy oils and other natural remedies to create better periods and womb health in just 30 days.
Now you can say bye to PMS & Hi to womb wellness in just 30 days!!!!
This is a simple guide to help you:
*Recover from period pains, menstrual headaches, heavy bleeding, acne, food cravings, anxiety, depression and other menstrual symptoms
*Use nature to recover from fibroids, endometriosis, infertility and more
*Discover natural alternatives to chemical laden sanitary products
*Gain a deeper understanding of how your body works and how you can work with it.
Plus you can use the 30 Day Womb Wellness Plan and "The Healthy Womb Eating Plan' to see results in just 30 days.
If you suffer from:
Dysmenorrhoea – Painful cramping period
Amenorrhoea – Irregular, spotty or absent periods
Menorrhagia – Heavy long lasting periods
Menstrual migraines
Metrorrhagia – Bleeding between your periods
Premenstrual Dysphoric Disorder – Extreme mood swings, anxiety, depression, aggression etc around periods
Fibroids
Endometriosis
Polyps
Cysts, polycystic ovaries or Polycystic Ovary Syndrome
Infertility
or Menopause related health challenges


This is the book for you!!!
In the book you'll find:
Forward  by Abi begho, founder of The Lake Foundation
Chapter 1 – I Thought I Was Bleeding To Death
Chapter 2 – The 7 Wonder Of Our Wombs
Chapter 3 – Menarche, Menstruation & Menopause
Chapter 4  – Why Periods Go Bad?
Chapter 5  – Chemical Medications & Why To Avoid Them
Chapter 6  – Natural Ways To Better Periods & Womb Health
Chapter 7 – Menstrual Conditions & Natural Treatments
Chapter 8 – Womb Conditions & Natural Treatments
Chapter 9 – Natural Sanitation
Chapter 10 – 30-Day Womb Wellness Plan
Chapter 11 – Let's Get Started
Chapter 12 – Womb Health Resources
Here's what ladies are saying about it already
"What an absolutely phenomenal book, whether you're a teenager or an older woman, it's an essential rites of passage tool. Embrace this book and let it guide & protect you" Kinaya Barashango
"This makes so much sense, an easy to read and use book to take the guess work out of getting rid of your period pains" Louise, London
"Leah's book helps women begin to start the healing process by taking back control through a deeper understanding of their bodies and equips women to live the way we are intended to, naturally." Abi Begho
Get your copy for just £8.99
Share
View full details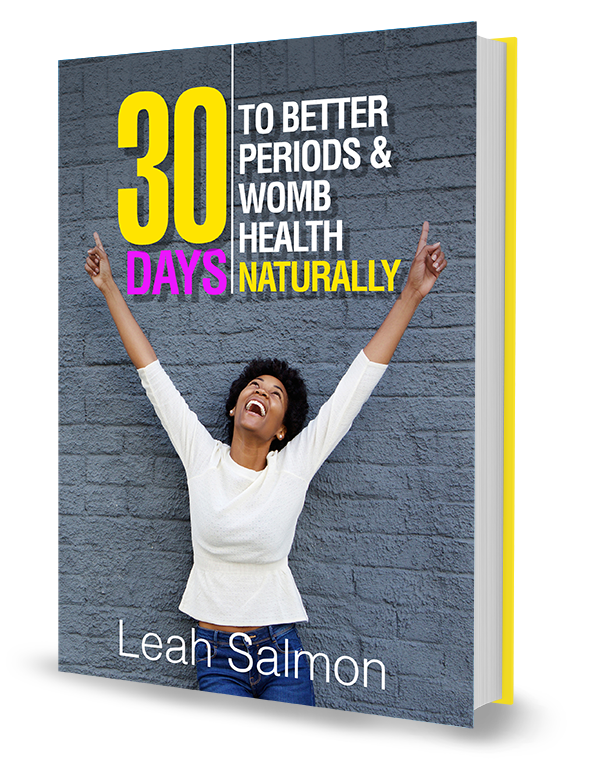 Want 10% Off Your First Order?!?
Join our Naturally You Weekly Mailing list to get your disound code today