Regular price
Sale price
£4.50 GBP
Unit price
per
Sale
Sold out
8 Regular & 6 Super Organic Cotton Tampons!!!
Hello, gorgeous!!!
Fancy some organic cotton tampons?
Here's a cheeky pack of 14 organic cotton tampons (8 regular and 6 super) with a sugarcane applicator!!!
FLO menstrual products are plant based, natural and super comfy, for period protection you can rely upon.
Our 14-packs of super organic, hypoallergenic and biodegradable cotton tampons are 100% recyclable, with a 95% plant-based (sugarcane) applicators. No synthetic fibres, chemical residues, dyes, pesticides, chlorine bleach or fragrances.
Ingredients:
Organic cotton, sugarcane applicator
We love FLO Because: 
• 100% organic cotton tampons* and 100% Organic bamboo pads and panty liners
• Plant-based wrappers for our Tampons, Pads and Panty Liners
• Silkyyy-soft sanitary pads and tampons that offer superior leak protection and comfort throughout your FLO.
• Ultra-thin, ultra-absorbent sanitary towels + tampons that expand widthwise for extra protection.
• Periods can be messy, period products shouldn't be
• We love all animals equally (yes, even you, scary crocodiles!), so we'll never test our products on them.
• No nasties here! No chemical residues, dyes, pesticides, chlorine bleach or fragrances.
• We're vegan, so we lead with kindness and love for mama nature!
Did you know this is a company owned and created by women of colour who's products support women and girls in need?!?
Besties Tara and Susan were having a classic BFF bathroom chat in the university loos.
Susan was daydreaming about starting a the Feminist Mafia together – Tara wondered why she couldn't find organic tampons anywhere. Loads of research, a masters dissertation and heaps of terrible period-pun business names later, FLO was born!
Empowered women empower women
5% of our profits go to charities that support the education and economic empowerment of girls + women in need. We also make monthly product donations to non-profit organisations (like homeless shelters, refugee asylums, food banks and schools – to name a few!) and we do our best to play a part in ending period poverty, shame and stigma. Ready to join the league?
Share
View full details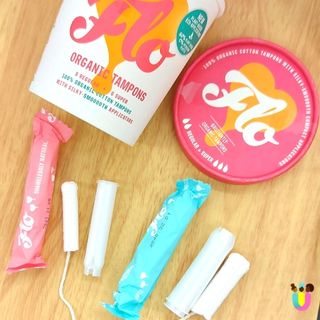 Want 10% Off Your First Order?!?
Join our Naturally You Weekly Mailing list to get your disound code today