Regular price
Sale price
£5.00 GBP
Unit price
per
Sale
Sold out
Vitamin C
 

is an essential nutrient in our body for so many reasons, including:

IMMUNE SYSTEM SUPPORT – Best known for supporting the immune system, Vitamin C powder (Ascorbic Acid) is a water-soluble vitamin and is not stored by the body. It therefore needs to be consumed on a regular basis to maintain an optimum level. In addition to eating Vitamin C rich foods on a daily basis, adding Vitamin C powder to your diet is great way to ensure that daily requirements are definitely met. This is especially useful during times of illness and cold & flu season. 

ANTI OXIDANT & COLLAGEN CO-FACTOR – Our bodies also need Vitamin C to synthesize collagen, the main component of connective tissue making up at least 25% of our body's protein stores. Maintaining a good intake of Vitamin C is therefore essential for healthy skin, bones, teeth and gums. It is also an antioxidant that readily mops up free radicals.

This product:
Has no added salt and sugar

Is ideal for mixing with water or fruit juice

Is Pure Vitamin C powder

Can also be used in bread making

Is suitable for vegetarians & vegans
Ingredients: 100% Vitamin C Powder (L-Ascorbic Acid) (GMO Free) – Suitable for vegetarians and vegans.
Recommended Usage:
* 500– 1000mg (1/4 -1/2 level tsp) taken daily in water or juice, do not exceed unless recommended by health professional – Excessive use may cause loose stool
This food supplement should not replace a nutritious diet
Share
View full details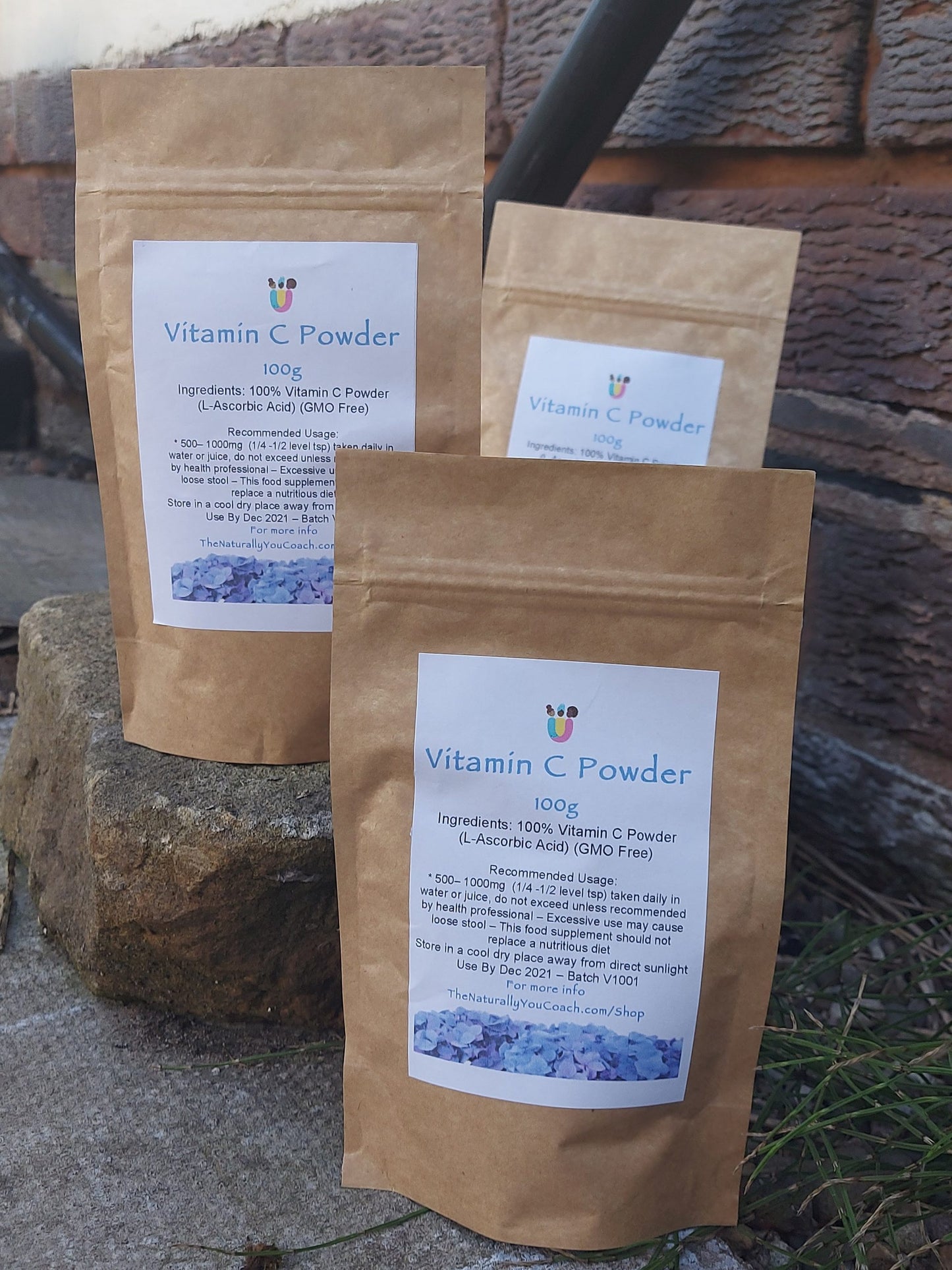 Want 10% Off Your First Order?!?
Join our Naturally You Weekly Mailing list to get your disound code today